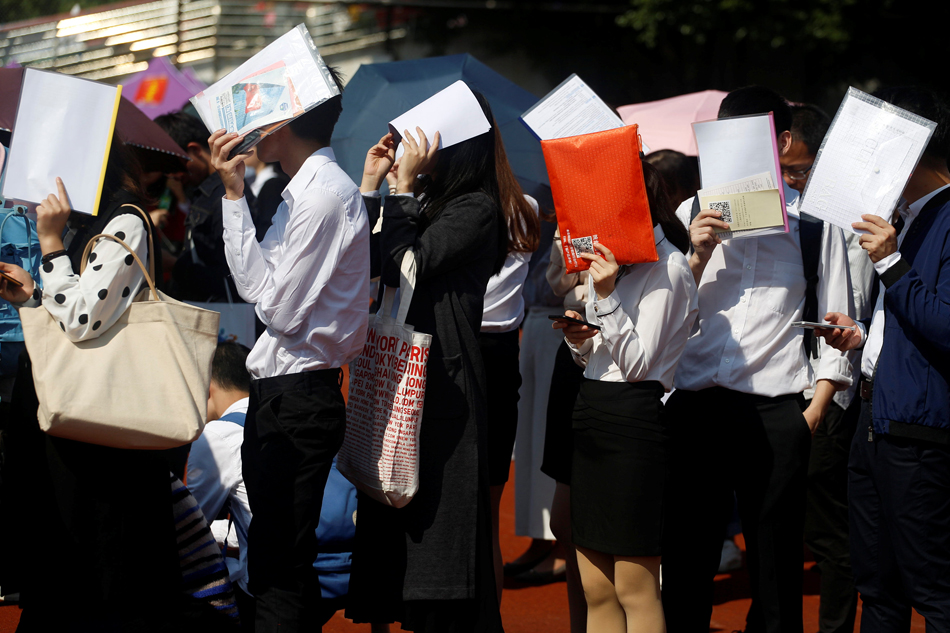 Students shield themselves from the sun as they line up at a job fair at a university in Guangzhou, Guangdong province, China Nov. 29, 2018. Tan Qingju/Southern Metropolis Daily via Reuters
MANILA — An online English-teaching platform aimed at the Chinese said Monday it was looking to hire 100,000 Filipinos in the next 5 years to meet growing demand.
The US-listed 51Talk currently employs 18,000 online English teachers, of which, 16,000 are Filipino, said its founder and CEO Jack Huang.
English proficiency is key to tapping demand, with online education estimated to be worth $50 billion, Huang told ANC's Early Edition.
"We believe that Filipino teachers are the best teachers, best online English teachers in the world to teach Chinese kids," Huang said.
"Naturally happy and friendly" Filipinos are a perfect fit to educate children ages 5 to 12 years, which make up about 80 percent of 51Talk's students, he said.
BE TESOL CERTIFIED NOW AND TEACH ENGLISH ANYWHERE IN THE WORLD!
TESOL's full form is Teaching English to Speakers of Other Languages. Having successfully finished with this course means you are able to teach or be a qualified instructor of the language to people in countries whose native tongue does not speak English. TESOL's course will train you in the basic approaches which include prime teaching methods and learning techniques on how to effectively teach English to foreign students.